PDF Version: GCIH Questions & Answers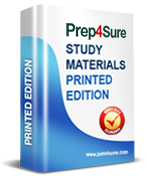 When you purchase GCIH Questions & Answers from Prep4sure, it does not mean that you'll have to be glued to your computer to study! To add flexibility to your learning process, Prep4sure offers you PDF Version of GCIH Questions & Answers.
PDF Version of Questions & Answers is an exact PDF copy of your purchase with all questions and answers. The file has an industry standart .pdf format and can be read by official Adobe Acrobat or any other free PDF reader application, on all modern devices.
Our PDFs have been formatted for easy printing, so you can reduce your screen time and study on the go.
* PDF Version is an add-on to your purchase of GCIH Questions & Answers and cannot be purchased separately.