Clearing IT Certification Exams Has Never Been This Simpler
We've got all it takes to help you prepare for complex IT certification exams
Here's What Prep4sure is About:
Effortless - Product download in no time after purchase! Don't waste your time - start exam studying immediately!
Unmatched - Trustworthy products content, round-the-clock client support, secure shopping experience
Specialized - Obtain free updates for 90 days after purchase exactly similar to actual exams
Reliable - Effective exam study solutions to overcome the difficulties of any IT certification
Proven - More than 154,723 happy clients choose Prep4sure for their certification exams and get success!
Hot Certification Products
Unlimited Access Megapacks
If You Plan to Take Multiple Exams, This is A Perfect Solution!
Planning to take several certification exams? You may end up with a hefty bill for exam learning materials if you keep purchasing them separately, one-by-one. Whether your exams come from the same provider or different vendors, Prep4sure provides you with unlimited access to all learning materials you need.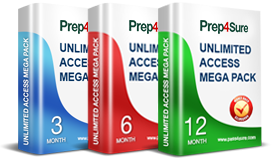 Here's What Unlimited Access Megapack is About:
Full spectrum of IT certification exams
Unlimited access to entire Prep4sure exam database
Flexibility in your exam preparation
Huge money savings
Convenient 3, 6, 12 month subscriptions
Certifications
---
Specialized Certifications
---
Languages
---
Project Management
---
Quality Assurance & Software Testing
---
Test Preparation
---
IT Service Management