Prep4sure Practical Labs
Prep4sure Practical Labs help you pass those notorious IT Certification lab exams. They contain actual lab exam questions, scenarios and tasks, complemented by comprehensive answers that have been verified by certified and experienced professionals.
Prep4sure Practical Labs are a reliable learning tool that helps candidates pass their lab exams. Since all Prep4sure labs are filled with explanations and additional details, they can be used as exciting tutorials in which you will learn the concepts and scenarios tested during certification exams.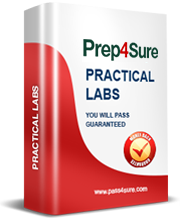 Prep4sure Practical Labs Features:
Efficient lab training with real lab scenarios;
Updated equipment and configurations;
Troubleshooting made easy;
Immediate access and download;
Comprehensive coverage of hardware and software usage;
Prep4sure Practical Labs are very intuitive and user-friendly. They are an ultimate
way of making your lab exams easier.
Money Back Guarantee

We are confident that you will pass your certification exam after using Prep4sure training materials. We guarantee money back in case of failure.

Why Choose Prep4sure?
Prep4sure proudly serves IT Professionals worldwide providing Industry Leading IT Certification Training solutions. The key of our success is to constantly provide the best quality practice exam products combined with the best customer service!

Secure Shopping at Prep4sure

All purchases at Prep4sure are secured by McAfee Incorporated that follows the proven best advanced 256-bit Secure Socket Layer Standard, so you can feel 100% safe knowing that the credit-card information you enter into the order form is 100% secure.


Need Assistance? Contact Us!