Prep4sure Questions & Answers (Testing Engine)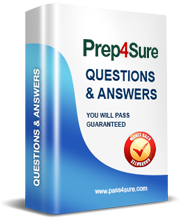 Prep4sure Questions & Answers (Testing Engine) is the cutting edge approach to learning and certification exam preparation. You no longer need dozens of books and other sources to help you get through your exams - we give you everything in one convenient format. Our smooth Testing Engine provides you with excellent exam simulation experience.
Prep4sure Questions & Answers Benefits:
Real exam questions;
Accurate answers;
Prep4sure Money Back Guarantee Policy;
Free Regular Updates;
Interactive learning experience.
Questions and Answers you get in our Testing Engine are guaranteed to be authentic. They come straight from the current question pool of your IT certification exams. All answers in Prep4sure Testing Engine are approved by IT professionals, so you know you can fully rely on them.
Prep4sure Testing Engine is the ultimate solution to ensure your stress-free exam preparation and excellent passing score.
Prep4sure Questions & Answers
Money Back Guarantee

We are confident that you will pass your certification exam after using Prep4sure training materials. We guarantee money back in case of failure.

Why Choose Prep4sure?
Prep4sure proudly serves IT Professionals worldwide providing Industry Leading IT Certification Training solutions. The key of our success is to constantly provide the best quality practice exam products combined with the best customer service!

Secure Shopping at Prep4sure

All purchases at Prep4sure are secured by McAfee Incorporated that follows the proven best advanced 256-bit Secure Socket Layer Standard, so you can feel 100% safe knowing that the credit-card information you enter into the order form is 100% secure.


Need Assistance? Contact Us!